Welcome to Admiralty Resources
Admiralty Resources NL is a diversified mining company with mineral interests in Australia and Chile and trades on the Australian Securities Exchange under the code ADY.
Admiralty is focused on iron or in Chile, with the company also having projects in Australia - including the Bulman Project in the Northern Territory and the Pyke Hill Project near Leonora in Western Australia.
In May this year Admiralty delivered a positive Pre-Feasibility Study for its Mariposa magnetite iron ore project, which is located in the Atacama region of Chile, and is around 20 kilometres south of Vallenar.
Key takeaways include a 49.1% post-tax internal rate of return, a 2.25 year payback on a $65.5 million capital investment.
This is based on a Resource of 66.6 million tonnes at 35.6% iron using a cut-off of 25% iron that provides for a 12 year Life of Mine and operational cost for final product CFR China ports of $89.10 per tonne.
Mariposa also has a post-tax Net Present Value (NPV) of $211 million at a 8% discount rate at World Bank forecasted long-term iron prices with an average of $141/tonne1 of the final product at 62% iron.
The PFS was completed by Redco Mining Consultants (REDCO) over the project. It also found that changing the parameters to use a current prevailing iron ore price of $128.50/tonne CFR China still yielded an attractive IRR of 41.37%, a 2.5 year payback and a post-tax NPV of $148 million.
Proactive Investors Australia is the market leader in producing news, articles and research reports on ASX "Small and Mid-cap" stocks with distribution in Australia, UK, North America and Hong Kong / China.
Our Projects
Minerals Chile - Vallenar
The 32 mineral exploration and exploitation concessions covering approximately 6,600 hectares are located within the Chilean iron belt in the Atacama Desert.
Pyke Hill - WA
The Pyke Hill Project in Western Australia comprises a single granted Mining Lease which covers an area of 5.37km2.
Bulman - NT
The Bulman Project is a zinc and lead oxide deposit located in southern Arnhem Land in Australia's Northern Territory.
Annual Report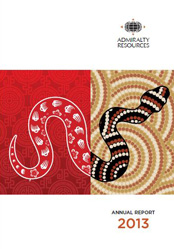 Access the Admiralty's annual report.
click here
Company Presentation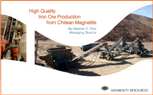 View the latest Investor Presentation.
click here
Share Price
Top 20 Shareholders
Access the current Top 20 Shareholders.
click here
Share Registry